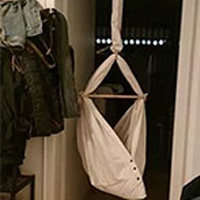 Sina Gellißen, midwife
I recommend the hammock from Nonomo, it is the perfect all-rounder when it comes to baby cradles. Natural materials combined with a back-friendly lying position for newborns and infants. Babies and children calm down very quickly due to the various options for movements and sleep very quietly and yet safely.
Simply a real all-rounder!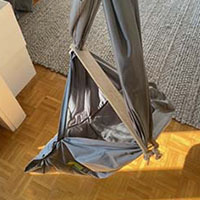 Anna Porth, gynecologist
The hammock does not just look beautiful, but is also a good everyday helper. The gentle movements of the cradle quickly calm the babies down and they fall asleep peacefully.
Larissa Launspach, midwife
Already during the assembly of the hammock and the tipi stand, I was very surprised by the good quality of the frame and the pleasant fabric of the hammock.
It is not only an eye-catcher in any home, but also a great help for all parents who can hardly put down their newborn. One mom told me that it took a few days for her child to accept the hammock, however it then became the favorite place for extensive naps - to the delight of the mom, who was only able to put the little one to sleep in the sling.
Based on several such positive reports, as a midwife I am happy to recommend the hammock.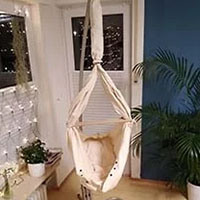 Madeleine Franzwa, midwife
I recommend the Nonomo hammock to most families who ask me about a suitable sleeping place for their baby already during pregnancy, because in my opinion, it is one of the few baby-friendly sleeping places. I am often asked in postpartum care why the newborn doesn't want to sleep in the playpen, crib or side bed and my answer is always that these sleeping places do not meet the natural needs of an infant.
So as an alternative I recommend the Nonomo hammock, also because it is made of harmless materials and can simplify the everyday life of parents greatly.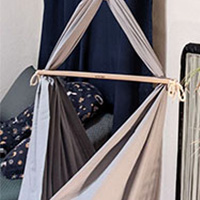 Leonina Koschützke, midwife
The feather cradle helps the baby be gently rocked to sleep, and babies usually calm down quickly with the gentle rocking. The fabric surrounds the baby and gives it the feeling that the world is "limited" for the moment, just like in the womb.
The spring cradle is therefore a good addition to daily carrying. Especially when children are very restless or even "high-need babies" (cry babies), the Nonomo is a great relief for parents because it gives you at least short breaks to breathe.
Of course, it doesn't replace bonding or physical contact, but it complements it in a great way. It attaches either via a carabiner in the ceiling or to a stand, so it really can be hung anywhere.
See are reviews here (German only):